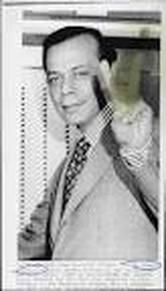 A Day in the Life of Albert Blumenthal.

An interview by Kody Clements
20 years after the Holocaust, Iowa USA


Kody- Albert, what was it like only seeing your mother, and sister, Marion only briefly every day while you were at Bergen-Belsen?

Albert- It was very hard not knowing if my mother and younger sister are still alive at the end of the day. Every morning, at Appell (role call) it was such a relief to see their faces.

Kody- What was your reaction when you saw that your younger sister had severely burnt her leg?

Albert- At first I was just disappointed that they did not get to eat the soup that got spilled on Marion. But when I saw how bad it really was, I was very nervous about it. She could hardly walk.

Kody- While you were on "The Death Train", what was it like not knowing where you were going?

Albert- It was awful, I would lay awake at night, wondering where we would end up. I thought for sure we would die.

Kody- What was the feeling like when you finally got to America?

Albert- It was a huge relief. After all that we had been through, it was amazing to finally be there. It was also hard to think that we left our father behind. The food was great, and we finally got settle down, and go to school.